COVID-19
To Our Customers,
Bowser Automotive remains focused on the health and safety of our customers, employees and communities that we serve.
WE ARE OPEN!  We will be adhering to all COVID-19 safety procedures for businesses and guidelines set by the Pennsylvania Department of Health.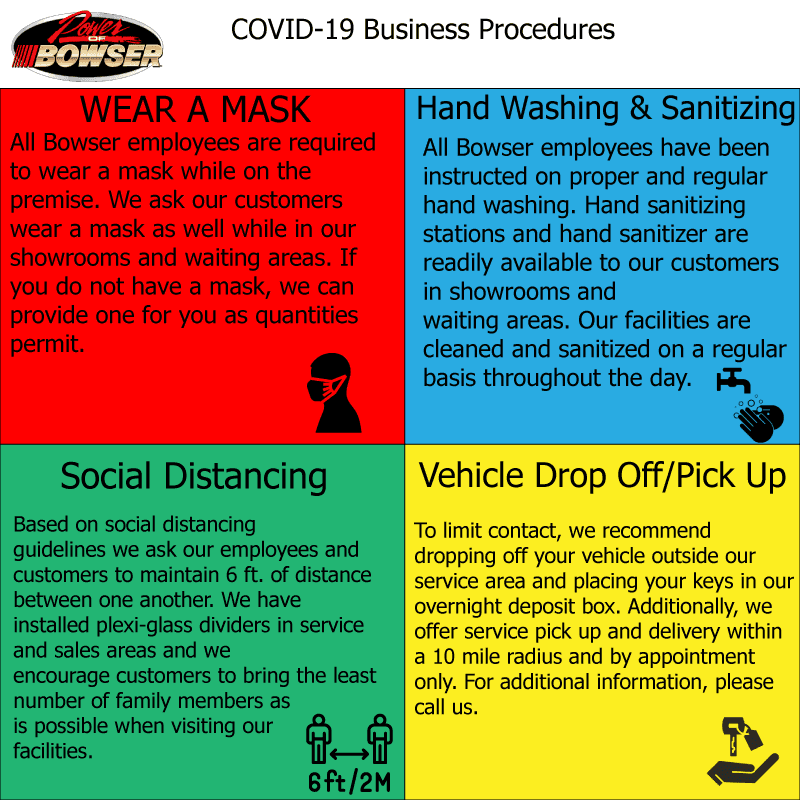 We have taken extraordinary measures to ensure our customers health and safety; making sure that our stores are disinfected and sanitized for everyone's protection. Our trusted partner, Bactronix, has treated our waiting areas with their patented process and products and our staff continue to clean and disinfect regularly. To learn more about Bactronix, CLICK HERE.
Current Sales Hours are Mon. Tues. Thurs. 9:00am to 9:00pm; Wed. Fri. 9:00am to 6:00pm and Saturday 9:00am to 5:00pm
Current Service Hours are Mon. Wed. Thurs. Fri. 7:00am to 6:00pm; Tues. 7:00am to 8:00pm and Sat. 8:00am to 5:00pm
You can schedule an appointment online at any of our websites or call 412-469-2100.
Updated 1/18/2021